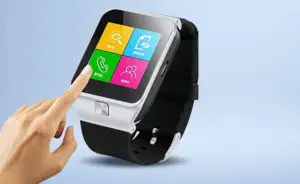 Right now we are living in the golden age of internet and technology. And as time is passing by all our devices are getting smarter than ever before. From desktop to smart watch, all the tech giants and big companies like Apple, Samsung, Xiaomi and many others are in a competition with each-other to make best smartwatch as well as provide their customers with more user-friendly features.
Now a days, smartwatches has become a part of our lives. As they have all the features that we get in a smartphone. Although the idea of best smart watch is here for very long, but it has recently swooped itself into the mainstream.
From health information to Facebook notifications, a smartwatch is smart enough to keep us updated about. It can track and keep record of all our daily activities. With the help of internet, a smart watch literally brought everything to our fingertips.
Now top and local brands are concentrating more to improve the watches, and working day and night to make the experience truly a lot better for the consumers.
As smartwatch is taking over the place of the traditional analog watch, many variety of smart watch is also making their own identity. And the latest addition into list is fitness bands.
All the health conscious people are preferring these fitness bands, as they can track their health conditions. It has many popular features like Pedometer, Heart Rate Monitor, Blood pressure monitor, sleep monitor, calorie burn tracker and many more.
Products like, Moov now, Samsung gear fit pro, Huawei band 2, Amazfit Bip, Fitbit Charge 2, Xiaomi Mi band 3 has already taken their spot into the list of most loved tech products.
However, many people find the traditional analog watches far better as they are made with perfection and great precision. Still, people who love technology and want their watches to display all the needful information about their health and want to get all the notifications that comes in their smartphones, consider smartwatches very helpful.
As an impact, the market and the smartwatch industry right now is creating a individual entity for itself. Each day the sales are increasing and the industry of smartwatches is expanding. Many new companies are coming up with new smartwatches with latest technology and great features.
To find the best smartwatch for you, Gadget Answer has researched and made a list of best smartwatch. Here we have featured the quality, benefits and of-course the pros and cons of each devices.
1. Apple Watch Series 4
2. Samsung Galaxy Watch Active
3. Apple Watch Series 3
4. Fitbit Versa
5. Garmin Vivoactive 3
6. Amazfit Bip
7. Fossil Sport
8. ASUS ZenWatch 3
9. Mobvoi TicWatch Pro
10. Misfit Vapor 2